[oxy_heading]For Business[/oxy_heading]

Commercial Opportunities
Industry Forum, the commercialization arm of NSBRI, fosters development of operationally relevant innovations that address the healthcare needs of astronauts, and assists in the translation of those benefits to the general public here on Earth.
Our network of world-renowned scientific, technical, and business experts propel US-based small businesses down the technology commercialization path, all while creating expanded market opportunities for small businesses and investors. Read More…
Recent Grant Recipients
As a part of NSBRI's BioShield 4 Mars initiative, Entrinsic Health Solutions, LLC and Humanetics Corporation were both awarded SMARTCAP grants for their efforts to protect humans from complications associated with radiation exposure. Read More.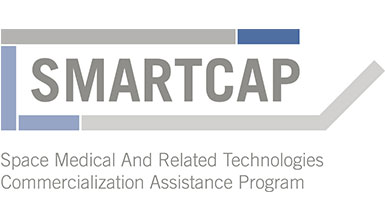 Tweets
RT @TalkSpaceMed: This figure lists the medical problems experienced by the Apollo crew during flight [Apollo 7 ->Apollo 17] Will be inter…
RT @DoritDSpaceHlth: Reminder. Space is dangerous. Our job is to keep people healthy. Let's not take it for granted. ESA astronaut Matthias…
SMARTCAP Accomplishments
Over the past five years, NSBRI Industry Forum, by way of non-dilutive grants administered through the SMARTCAP opportunity, has put forth eight solicitations, received nearly 200 applications from small U.S.-based companies, and matched federal funds dollar-for-dollar. SMARTCAP has funded over a dozen companies ranging from an app that assesses driver fatigue to a device that diagnoses brain trauma and a gel formulation used to treat wounds and abrasions. Read more about the benefits of the program.
Current Needs
While there is no active call for SMARTCAP at this time, NSBRI continues to seek out novel solutions in the following areas:
• Diagnostic and therapeutic devices for vision and cerebral health
• Non-invasive surgical approaches
• Behavioral health solutions
• Ionizing radiation countermeasures
• Ionizing radiation biodosimetry technologies
• Point of care diagnostics for multiple conditions using various bio-fluids
• Miniaturized imaging capabilities
• Smart medical algorithms
If your company has a technology / product that could prove useful in any of these areas, get in touch!
Get In Touch


Deputy Chief Scientist, and Industry Forum Lead
Dorit B. Donoviel, Ph.D
donoviel@bcm.edu
Benefits of Our Work
The NSBRI Industry Forum mission is twofold: to commercialize biomedical discoveries made for space, and challenge the private sector to develop space-compatible healthcare solutions. We leverage the private sector through our unique funding program, SMARTCAP, that rewards small U.S. companies that can provide medical innovations that solve the unique challenges of human spaceflight while developing new market opportunities on Earth. Our Industry Forum Steering Council  helps guide the initiatives of NSBRI as they relate to terrestrial markets.
Sept 20, 2016
New Tech Tonics Podcast: Dorit Donoviel – Driving Better Health in the Final Frontier
Dr. Dorit Donoviel, a self described geek, Director of the Biomedical Innovations Lab, Center for Space Medicine, at Baylor College of Medicine, Deputy Chief Scientist at The National Space Biomedical Research Institute (NSBRI), and Assistant Professor, Dept. of Pharmacology at Center for Space Medicine, Baylor College of Medicine joins the Tectonics podcast to talk about how space medicine improves  health care on Earth and what it takes for researchers – and entrepreneurs – to have the right stuff to make a difference. Listen to the Podcast
July 09, 2016
The mysterious syndrome impairing astronauts' sight
In 2005, astronaut John Phillips took a break from his work on the International Space Station and looked out the window at Earth. He was about halfway through a mission that had begun in April and would end in October. When he gazed down at the planet, Earth was blurry. He couldn't focus on it clearly. That was strange — his vision had always been 20/20. Get the FULL STORY from the Washington Post.
May 17, 2016
New medical technologies can benefit astronauts in space and oncology patients on Earth
Two small companies developing products to protect humans from the damaging effects of radiation exposure have been selected to receive grants from the National Space Biomedical Research Institute (NSBRI).  Entrinsic Health Solutions, Inc. (EHS), located in Norwood, MA, is an innovative health sciences company dedicated to the development and commercialization of amino acid based medical foods to address critical digestive health, nutrition and hydration related health issues. READ MORE
April 06, 2016
Medicine and Mars: How studying the Kelly twins will shape the future of space exploration and human health here on Earth
What happens to the body after a year in space? That is what NSBRI and NASA's Human Research Program are looking to find out. NSBRI's Dr. Graham Scott speaks to how spaceflight is not only a good model for stress, but is also an analogy for aging. Read the full article.
Nov 09, 2015
Space institute to fund electronic adjustable power eyeglasses and a smart sleep mask
Houston-Two small companies developing state-of-the-art medical technologies have been selected to receive grants from the National Space Biomedical Research Institute (NSBRI). LumosTech, Inc. is a Stanford University-based startup company developing a programmable mask that uses light therapy during sleep to adjust a person to a new time-zone. Vision Smart Optics, Inc. of Sarasota, Florida  is developing electronic smart glasses that can change eye prescriptions, as needed… MORE
Oct 30, 2015
Funding Opportunity Seeks Countermeasures that Can Address the #1 Risk to Humans in Space – SMARTCAP 2016 – The BioShield 4 Mars Initiative
Small U.S.-based companies developing countermeasures to protect healthy tissue from the effects of radiation exposures may be eligible for a unique funding opportunity offered through the National Space Biomedical Research Institute (NSBRI). NSBRI's Industry Forum is soliciting applications for its Space Medical and Related Technologies Commercialization Assistance Program (SMARTCAP). SMARTCAP grants are used to accelerate the development of products meeting a need on Earth as well as in space… MORE