[oxy_heading]About[/oxy_heading]
Who We Are
The National Space Biomedical Research Institute (NSBRI) mitigates the risks inherent to long duration human spaceflight while translating research findings to tangibly improve health on Earth. The Institute partners with NASA, academia, and industry to achieve these goals, while at the same time inspiring and training the next generation of space life scientists, physicians, engineers, and astronauts.
Mission
The Institute leads a national effort to conduct the integrated, critical path, biomedical research necessary to support long-term human presence, development, and exploration of space and enhances life on Earth by applying the resulting advances in human knowledge and technology.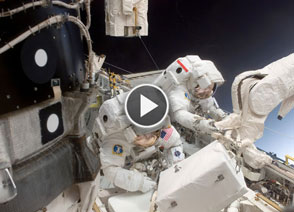 Core Values
The Institute continues to embrace core values that have guided its maturation from inception. These values are:
Achievement through Excellence
Teamwork and Collaboration
Integrity
Leadership
Service
Vision for NSBRI
NSBRI will continue to be a world leader in translational space biomedical research, and is committed to achieving its mission using innovative science, technology, education, and management strategies having high impact for all stakeholders. The Institute will remain focused on developing safe and effective countermeasures and technologies that substantially reduce significant biomedical risks associated with human space travel. These discoveries not only ensure crew health, but they also improve life on Earth.
By engaging a diverse, open community of outstanding scientists, engineers, clinicians, and educators to work on peer-reviewed projects in integrated teams, and by using the resources available through leading institutions, NSBRI can achieve its mission while inspiring the next generation of space life scientists. The Institute strives to be the focal point of, and a major resource for, NASA-sponsored space biomedical research and education in the United States. Through international cooperation and collaboration, NSBRI also aims to serve as a leading space biomedical institute among space-faring nations.